Would you like to influence others without them even knowing it?
Join me on a journey filled with

Laughter

Fun

Mystery
"Gary recently performed a mentalist act at our company meeting with over 500 people in attendance and had everyone laughing and at the edge of their seat! Fabulous 5 star performance, very creative, highly recommended!" – Jamie B.
"Gary put on a show at our company sales meeting and it was truly amazing! I was laughing the entire time. He knew exactly how to work the crowd and kept everyone engaged. He was able to leave us all wondering how he did it! I would recommend Gary to anyone!" – Courtney K.
"I was blown away by Gary's performance. It was an incredible experience." – Amber B.
"Gary S. Chan is a master at connecting and interacting with the audience. Our entire group was entranced as he amazed us with mind-bending mentalism. He was humorous, astonishing, and most important, FUN!" – Mike M.
"WOW, what a great show! I had the pleasure of watching Gary perform recently and he is a true showman. He had the crowd engaged the whole time and there were lots of laughs to be had. Would definitely recommend Gary!!" – Ashley E.
"I saw Gary's show last week in the US and thoroughly enjoyed it, it was a great way to end a 2 day work event and had everybody leave laughing, on a high and asking 'how'. Mind boggling and highly entertaining." – Clare L.
FAQ
What types of events do you specialize in?
I help corporate events and conferences inspire their attendees to think outside of the box and have a fun time doing it.
Where do you speak?
Anywhere, although generally in the United States.
What do the magic kits look like?
The learning and fun don't need to end at the end of the event.  Depending upon the event, your participants can bring home a magic kit for their kids.  The Deluxe Kit includes classics of magic that keep children entertained and build their confidence for public speaking.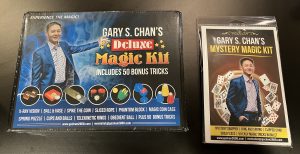 What is the fee?
The fee for an event outside of the Greater St. Louis area is typically more than $7,500.  The cost depends heavily upon a number of factors, such as the travel involved, whether you'd like your attendees to take home magic kits, and what customizations may be needed.  A 50% deposit is due at the time of booking, and the remainder is generally due on the event date. The exact terms and details can be negotiated and are in the contract that you will have an opportunity to review.
What is your cancellation policy?
The cancellation fee is generally the deposit amount. The exact terms and details are in the contract that you will have an opportunity to review.
What happens if you cancel?
I've never cancelled on a client before. But if I ever need to cancel, I'll refund anything you already paid. The exact terms and details are in the contract that you will have an opportunity to review.
What is a mentalist?
A mentalist practices mentalism.  A magician practices magic.  Think of a mentalist like a magician who specializes in psychological games rather than dexterity.  Whereas a magician might use sleight of hand to find your card, a mentalist will use mind games to determine which card you thought of.
Similar to a magic show, my show is highly interactive and engaging with the audience.  Audience members will be joining me on stage throughout the event.
Why are you called a "security mentalist" and not just "mentalist"?
Many of my demonstrations are based on security concepts.  I use game theory, math, and other techniques to predict and influence the future.  For example, I use interrogation techniques to perform a truth or lie detection.
I have decades of experience in security and am trained in behavioral profiling, conflict management, negotiation, interrogation, and mediation. I architected anti-fraud systems for state agencies, led the information security teams for a large-cap technology company, currently own a security consulting company (Alfizo.com), currently lead the security teams for a large multi-state healthcare system, and was an evaluator and mentor for cybersecurity start-ups as part of a venture capital fund. I served as President of the FBI St. Louis Citizens Academy Alumni Association and Technology Officer for the Greater St. Louis Association of Certified Fraud Examiners. I hold four security certifications and a degree in Electrical Engineering & Computer Science from MIT.
How do I hire a security mentalist?
Please fill out the contact form below, and I'll respond within a day to ask for a video call. We'll talk about what you are looking for and whether my show would be a good fit for your audience. I'll also provide you with a quote at that time. With this information in hand, you can let me know if you'd like to hire me to enhance your guests' experiences with a mentalism performance!